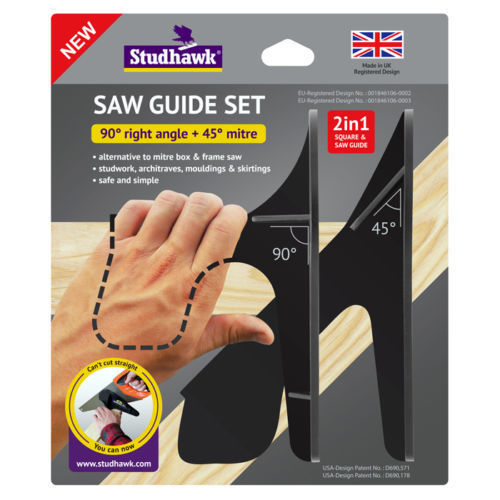 Studhawk Saw Guide Set (Twin Pack)
£11.99 £19.99
The Studhawk guide set are tools designed to make the job quicker and easier. They ensure a straight cut every time which eliminates wastage and saves time setting up and carrying timber to the chop saw. They are lightweight and portable and will fit into any toolbox or bag. They are affordable and more versatile than other products on the market.
Studhawk 90
The Studhawk 90 is designed for cutting wood at 90 degrees. The main difference between the Studhawk saw guides and the mitre box & frame saw, is that the tool is placed on the wood, rather than the wood placed in the tool. 
Studhawk 45
The Studhawk 45 is designed for cutting wood at 45 degrees. The Studhawk 45 is less bulky than the mitre box or frame saw and fits easily into any toolbox.
The Studhawk Saw Guide Features:
Saw Guide Face
Thumb Slot
Palm Plate
Square edge hook
5. Safety Finger Web
It is often quicker to cut mitres by hand using the Studhawk 45 in situ, rather than walking back and forth to the chop-saw. You can continue cutting and fixing architraves even if power isn't on site yet!
Contents of the Studhawk Guide Set pack
1 x Studhawk 45 degree Guide
1 x Studhawk 90 degree Guide
Both guides are ergonomically shaped for ease of handling and are made from tough plastic which will not be cut, but is light to carry. Manufacturing in the UK to BS90201standards.